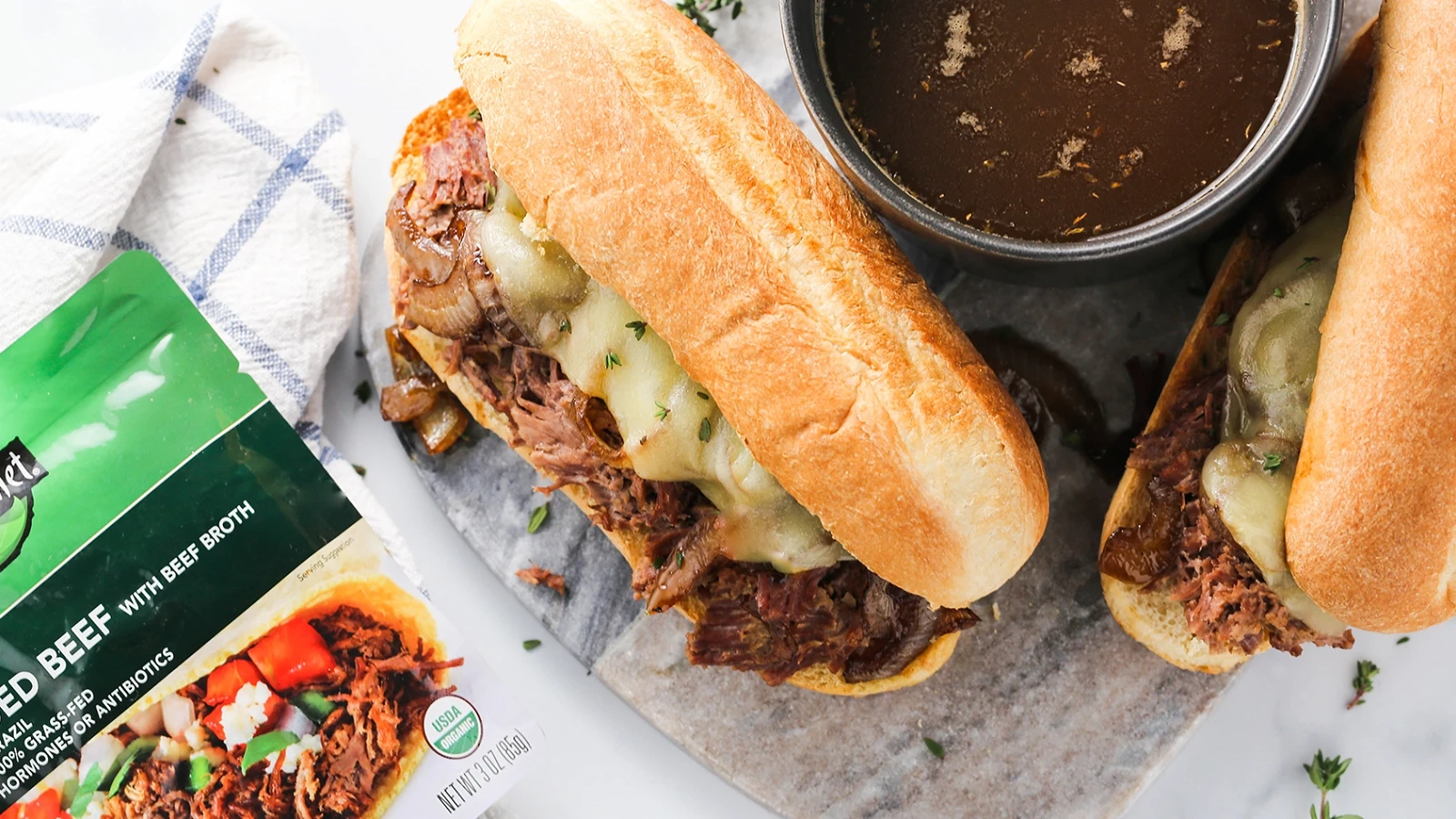 Ingredients
Sandwich Ingredients

2 French bread Rolls

4 Tbsp butter, softened

–OR–

1/4 tsp onion powder

1/8 tsp dried oregano

Salt and pepper to taste

6 slices Provolone cheese

1 small yellow or white onion, thinly sliced

2 tsp Worcestershire

Fresh Thyme for garnish (optional)

Broth Ingredients

2 cups beef stock

1/8 tsp dried thyme

1/2 tsp salt

1 tsp sherry wine

2 tsp Worcestershire

1 tsp garlic powder
SHOP ALL WILD PLANET PRODUCTS
Directions
Preheat oven to 375° F.

Using half of the softened butter, butter each side of the rolls and place on a baking sheet.

In a small pan, add the rest of the butter, the sliced onion, and 2 tsp Worcestershire. Cook until onions are softened and starting to caramelize.

Empty the shredded beef pouches into a bowl and add the onion powder, dried oregano, and salt and pepper. Lightly mix together.

Top each bottom half of the French rolls with the beef mixture, followed by caramelized onions and cheese slices. Top with fresh thyme, if desired.

With the top half of the rolls lying face up next to the bottom halves, place in oven for about 7-10 minutes, or until the cheese is melted, bread is slightly toasted, and beef is heated through.

Meanwhile, in a saucepan over medium to low heat, whisk together the broth ingredients, fully simmering for about five minutes.

Serve the sandwiches alongside small bowls of the broth for dipping.