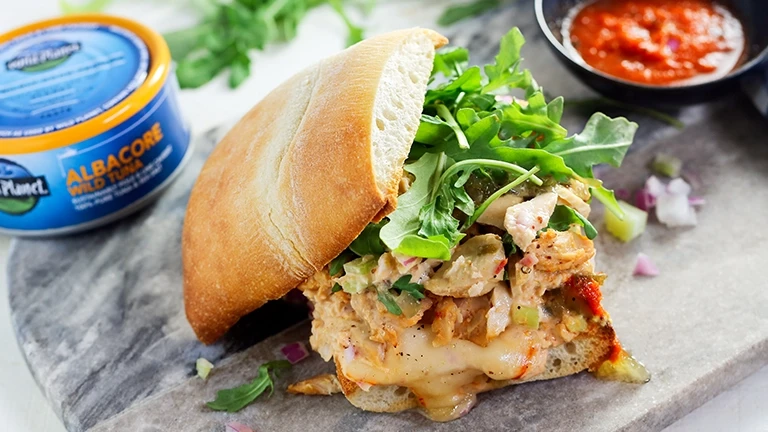 Ingredients
–OR–

3 Tbsp nonfat Greek yogurt
3 Tbsp mayonnaise
2 tsp Sriracha
1/2 tsp grain mustard
1 tsp sweet pickle relish
1 1/2 Tbsp red onions, chopped
2 1/2 Tbsp fresh celery, diced
Ciabatta Baguette, 20"
4 slices Muenster or Provolone cheese
1 cup fresh arugula
SHOP ALL WILD PLANET PRODUCTS
Directions
Place the tuna with all of the natural liquid from the cans into a mixing bowl. Gently flake the tuna into small/medium size pieces, then lightly toss with the natural liquid to evenly blend.

Place the Greek yogurt, mayonnaise, Sriracha, grain mustard, sweet pickle relish, red onions and celery in a separate mixing bowl. Stir to evenly combine.

Gently fold the Greek yogurt mixture into the reserved bowl of tuna. Place in a covered container and set aside.

Slice whole baguettes in half lengthwise, then slice each half into four equal 5" long pieces (a total of eight 5" baguette halves). Toast the pieces until crispy and golden, then reserve, covered, at room temperature.

Preheat oven to 425 degrees F. For each sandwich, place cheese slice on one piece of toasted 5" baguette. Evenly spread 1/2 cup of the reserved Sriracha tuna mixture on top of the cheese slice. Bake in oven, open-faced, for approximately 2 minutes. Remove from oven, top with 1/4 cup fresh arugula, second piece of toasted 5" baguette and serve.