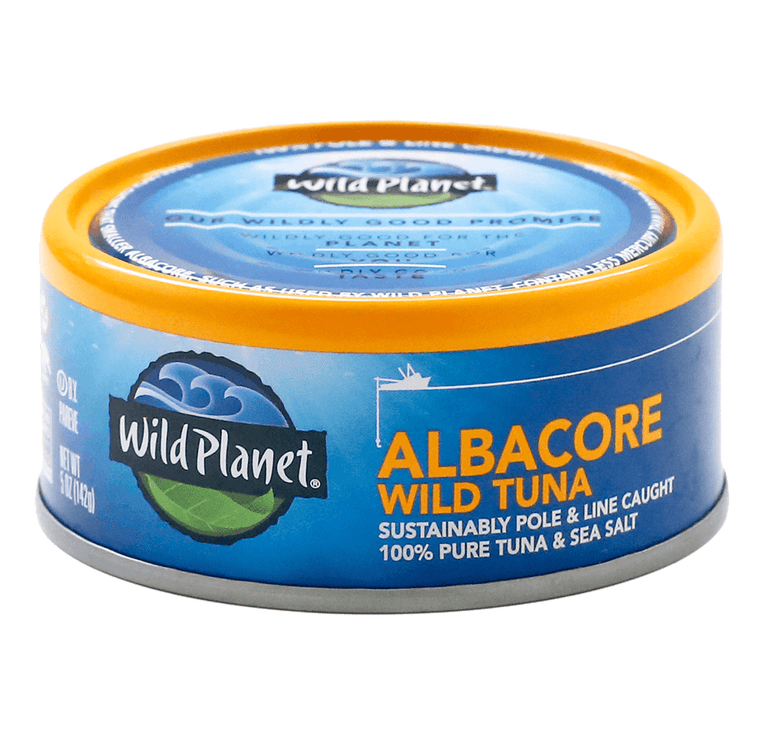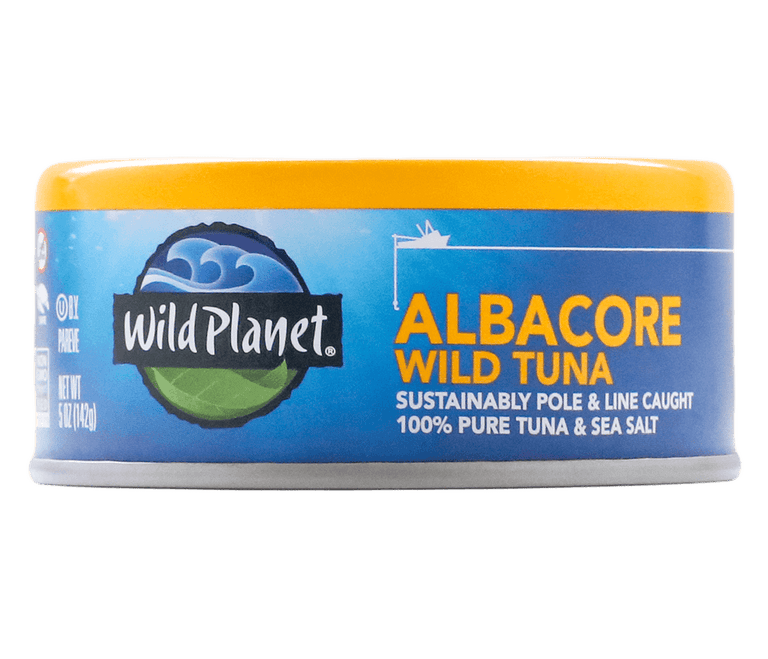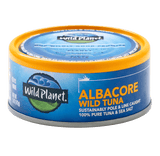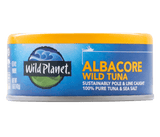 Albacore Wild Tuna
5oz Can
100% pole & line or troll caught methods that only catch smaller migratory tuna lower in mercury. Nets are never used to catch our tuna.
Ingredients: Albacore tuna (Thunnus alalunga) and sea salt
This tuna is harvested in the North Pacific Ocean, working with fleets in the United States and Japan; and in the South Pacific Ocean, working with smaller fleet in New Zealand.
Kosher
Gluten-Free
Our albacore tuna steaks are hand-cut, hand-packed and cooked directly in the can just once to retain their natural juices, Omega‑3 oils and a firm texture.
Each can contains only tuna steak seasoned with a touch of sea salt and no added water or oil so there is nothing to drain. The natural juices enhance the flavor allowing you to experience the delicious, clean taste of pristine tuna.
Nutrition

1.5
3oz (85g)
100
2.5g (3% DV)
1g (5% DV)
0g
20mg (7% DV)
200mg (9% DV)
0g (0% DV)
0g (0% DV)
0g (incl. 0g Added Sugars, 0% DV)
21g (42% DV)
30% DV
0% DV
4% DV
6% DV
705mg
Shipping & Returns

For one-time purchases, an order threshold of $75 is required for free shipping. Orders below the threshold will have a $10 flat rate shipping fee added. For all Subscribe & Save orders, customers will always receive free shipping within the continental U.S.

If you are not entirely satisfied with your purchase, the product can be returned within 30 days of the original purchase of the product. A new product may be exchanged for another product or returned for a refund. You will need to contact our Customer Service team before sending the product back to us. Unfortunately, sale items cannot be refunded. Only regular price items can be refunded. For more details, please view Our Policies.
I love Wild Planet!

Wild Planet canned fishes are by far the best I've ever had. I eat this tuna right out of the can. Simply top my salad with it. I would need to take out a second mortgage in order to be able to afford them on a regular basis. :-) So, for now, they'll just have to be how I treat myself. I highly recommend.

PATRICK B.

Verified Buyer

Great Tuna

I always use to can my own but the cost got so high. I started buying a case of wild plant. It was really good. So now I just place one BIG order every year and get my Tuna, Sardines & Salmon shipped to my door. THANKS WILD PLANET.

Tuna

This is great tuna and so good for me too. I love mixing it with hard boiled eggs and putting it on greens.

Consistently Good Product

Next best we've found to our caught and canned Albacore tuna. Nice to purchase in quantity, would be ideal if packed in US.

Jerrold W.

Verified Buyer

The only tuna for me

I prefer my tuna modified with some mayonaise, spicy mustard, hog gardeniera peppers, sweep pickles, red onions, anchovies and celery. Of many different brands tested, wild planet tuna is my only choice.
Reviews Loaded
Reviews Added