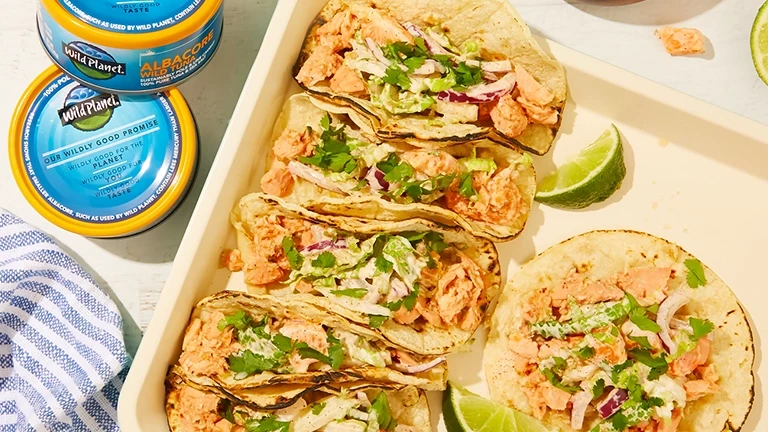 Ingredients
–OR–

1/4 cup prepared salsa verde
1 cup fresh Napa cabbage, thinly sliced
1/3 cup red onions, chopped
3 Tbsp Greek yogurt
1 1/2 Tbsp mayonnaise
1/2 tsp fresh lime juice
1/4 tsp chipotle powder

1/2 cup fresh clementines, peeled & roughly chopped

4 soft corn tortillas, 6"

4 fresh whole sprigs cilantro
SHOP ALL WILD PLANET PRODUCTS
Directions
Place the tuna with all of the natural liquid from the cans into a mixing bowl. Add the salsa verde to the tuna. Gently flake the tuna into small/medium size pieces, then lightly toss with the natural liquid and salsa verde to evenly blend. Set aside.

Place the cabbage, red onions, Greek yogurt, mayonnaise, fresh lime juice, chipotle powder and clementines in a separate mixing bowl. Stir to evenly combine. Place in a covered container.

Warm soft corn tortillas and place on a clean work surface. Top each tortilla with 1/4-1/2 cup of the chilled slaw, spreading slightly out from the center of each tortilla. sauté 1/4 cup of the tuna/salsa verde blend over medium-high heat for 30 seconds in a non-stick pan (dry pan – no oil). Place the hot tuna on top of the slaw. Garnish with cilantro sprig and serve.