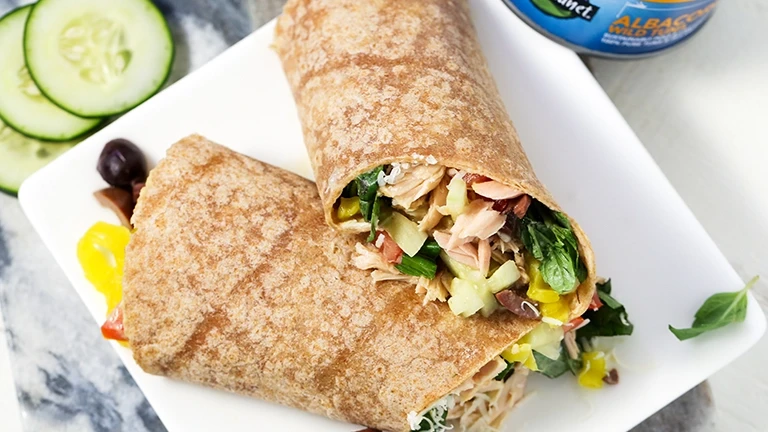 Ingredients
–OR–

4 flour tortillas, 12"
1/2 cup prepared chickpea hummus
1/2 cup fresh basil, finely chopped
1 cup fresh Roma tomatoes, diced
1/4 cup pickled sweet banana peppers, diced
1/4 cup Kalamata olives, diced
1/4 cup jarred or canned artichokes, drained and roughly chopped
1/4 cup cucumbers, peeled and diced

1 cup Parmesan cheese, finely shredded
Directions
Place the tuna with all of the natural liquid from the cans into a mixing bowl. Gently flake the tuna into small/medium size pieces, then lightly toss with the natural liquid to evenly blend. Place in a covered container and set aside.

Place flour tortillas on a clean work surface. Evenly spread 2 Tbsp hummus across each flour tortilla.

Evenly spread these ingredients across the flour tortilla all the way to the outside edges, over the hummus, in the following order: basil (2 Tbsp); chopped tomatoes (1/4 cup); sweet banana peppers (1 Tbsp); Kalamata olives (1 Tbsp); artichokes (1 Tbsp); cucumbers (1 Tbsp); flaked tuna (1 cup); Parmesan cheese (1/4 cup).

Roll the flour tortilla tightly forward to form a wrap and serve.