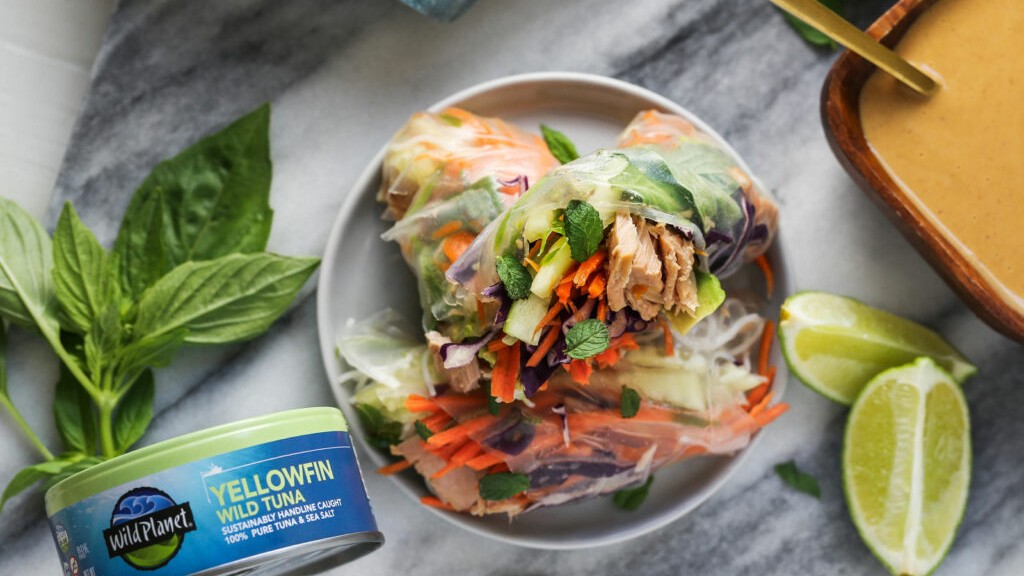 Ingredients
Peanut Sauce Ingredients

1/2 cup peanut butter
Juice of 1 lime
2 Tbsp soy sauce
2 Tbsp maple syrup or another liquid sweetener
1 tsp sesame oil
1 clove garlic, minced or grated
1/2 tsp red pepper flakes
1/2 cup filtered water

Spring Roll Ingredients

1 cup cooked vermicelli rice noodles
1/2 of a cucumber, cut into thin strips
1/2 cup shredded purple cabbage
1 carrot, shredded or thinly sliced

–OR–

–OR–

1/2 avocado, thinly sliced
1 jalapeno, thinly sliced
1/4 cup roughly chopped fresh basil
1/4 cup roughly chopped fresh mint leaves
1/2 of one fresh lime
4 rice paper sheets
Directions
In bowl, mix together all peanut sauce ingredients and set aside.

Cook vermicelli noodles according to package directions, rinse with cold water, drain, and set aside.

Cut and prep all vegetables within spring roll ingredients list and place within reach of assembling area.

Fill shallow pan with water and place one sheet of rice paper in water.

Let soak for about 20 seconds or until just pliable and softened.

Place softened rice paper onto a dampened cutting board.

At the bottom third portion of rice paper, place some vermicelli noodles, cucumber, cabbage, carrot, tuna pieces, avocado, jalapeno, basil, and mint, followed by a squeeze of fresh lime juice.

Fold lower edge of rice paper over fillings, then fold in sides and finish rolling up.

Repeat same process with remaining ingredients.

Cut spring rolls in half and serve with peanut sauce.