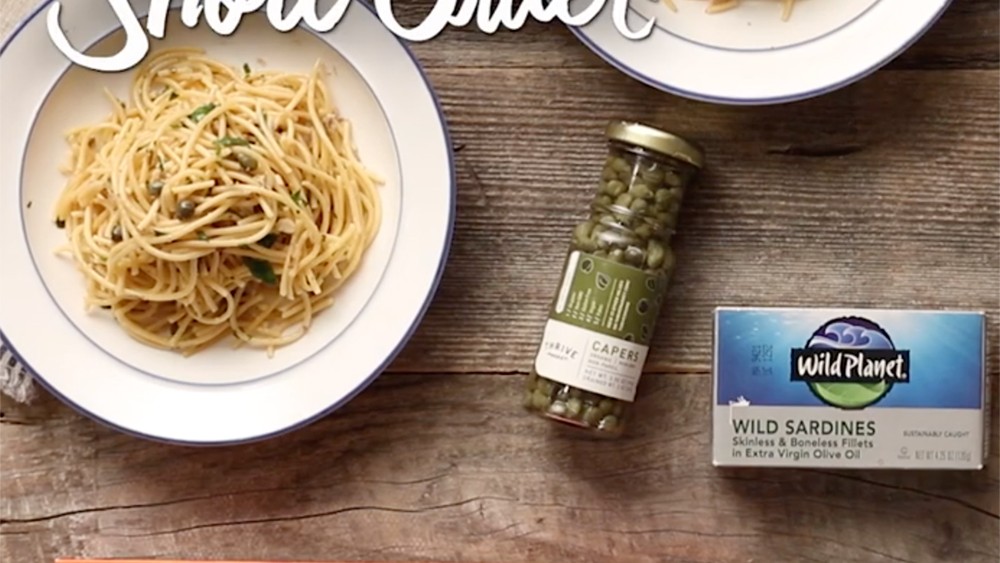 Try this fast, nutritious and tasty bagna cauda recipe using Wild Planet Wild Sardines! Recipe and video made by Thrive Market. If you're wondering why you should be eating sardines, check out our blog post here:http://bit.ly/2RbRpd9
Ingredients
1 8oz package Banza Chickpea Spaghetti

2 Tbsp Thrive Market Organic Non-Pareil Capers, drained

5 cloves garlic, minced
Zest of one lemon
Juice of 1/2 lemon
1/4 cup chopped parsley
1 tsp salt
1/2 tsp black pepper
SHOP ALL WILD PLANET PRODUCTS
Directions
Bring 8 cups salted water to a boil, cook pasta 6 minutes.

Drain pasta, reserving 1/2 cup of pasta water.

Add sardines and oil to a pan, mash.

Add capers and garlic to pan, sauté until garlic is fragrant.

Add lemon zest and lemon juice, sauté.

Add cooked pasta, reserved pasta water, and parsley to pan, mix.

Top with salt and black pepper.