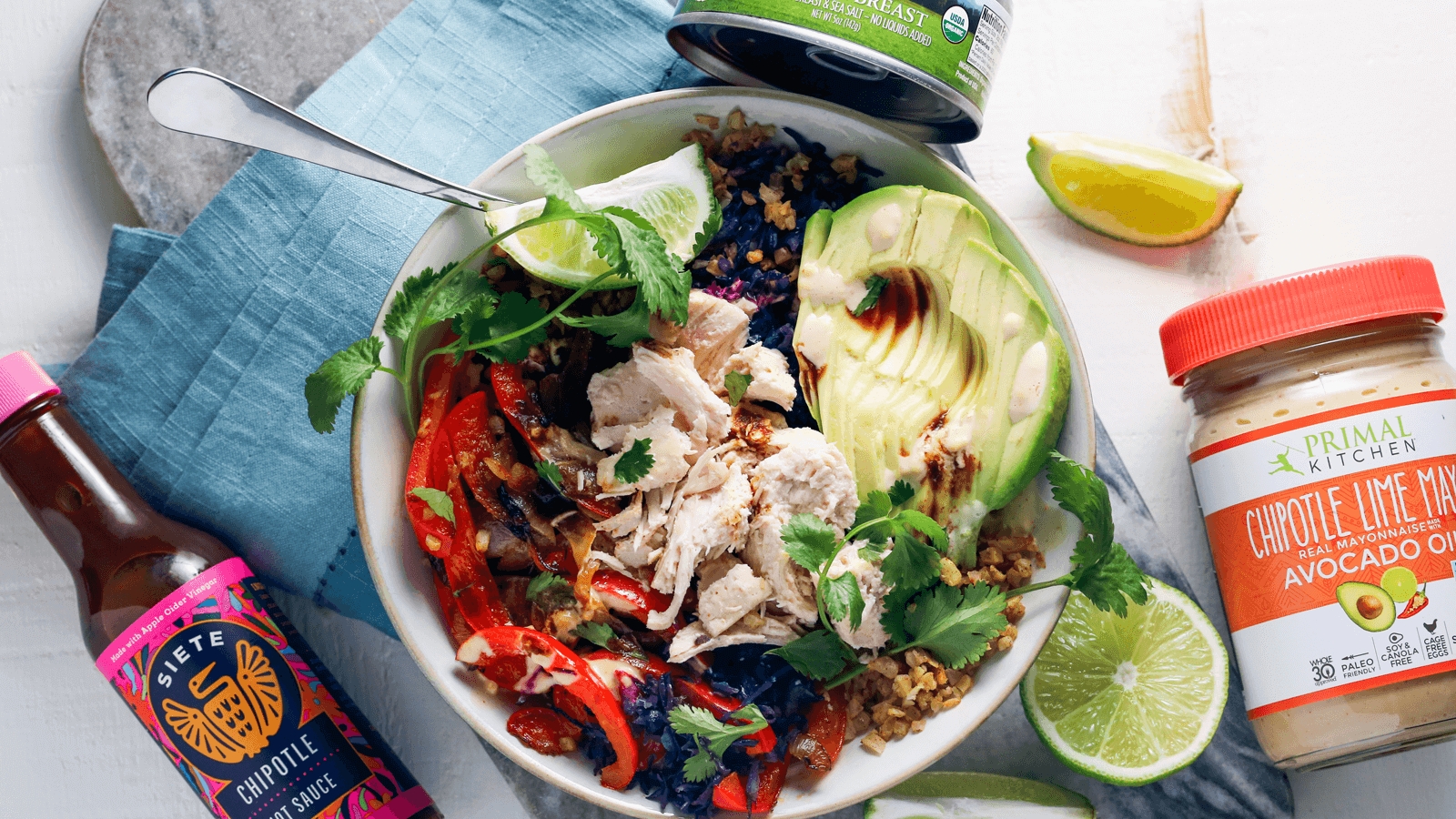 Ingredients
2 Tbsp olive oil, divided

3 cups cauliflower rice

2 cloves minced garlic, divided

1 ½ tsp chili powder

½ tsp cumin

½ tsp oregano

Pinch smoked paprika

Sea salt and freshly ground pepper, to taste

1 small onion, sliced

1 bell pepper, sliced into thin strips

1 cup shredded red cabbage

1 ripe avocado, peeled and sliced or chunked

1 Tbsp Primal Kitchen Chipotle Lime Mayo

1 Tbsp fresh lime juice

Hot Sauce

Fresh lime wedges

Chopped cilantro
SHOP ALL WILD PLANET PRODUCTS
Directions
Place Wild Planet Organic Roasted Chicken Breast and the natural juice from the can into a small bowl and flake into bite size pieces.

Stir to incorporate the natural juices back into the chicken. Set aside.

Heat 1 Tbsp olive oil in a skillet over medium heat.

Add riced cauliflower and sauté until rice is softened, about 5 minutes.

Add 1 minced garlic clove and cook another minute, being careful not to burn.

Add chili powder, cumin, oregano and paprika.

Stir to combine all; season with salt and pepper.

Divide cauliflower between two serving bowls and set aside.

In same skillet, heat remaining Tbsp olive oil.

Sauté onion and bell pepper until soft and charred in spots.

Add remaining garlic and cook another minute.

Divide between the two serving bowls.

In same skillet, add shredded cabbage and sauté (adding additional olive oil if necessary) until just wilted, about three minutes.

Arrange in bowl along with chicken, avocado, and red cabbage.

In a small bowl, mix the mayo and fresh lime juice together, then drizzle over the bowls.

Top with hot sauce, lime, and cilantro to taste.