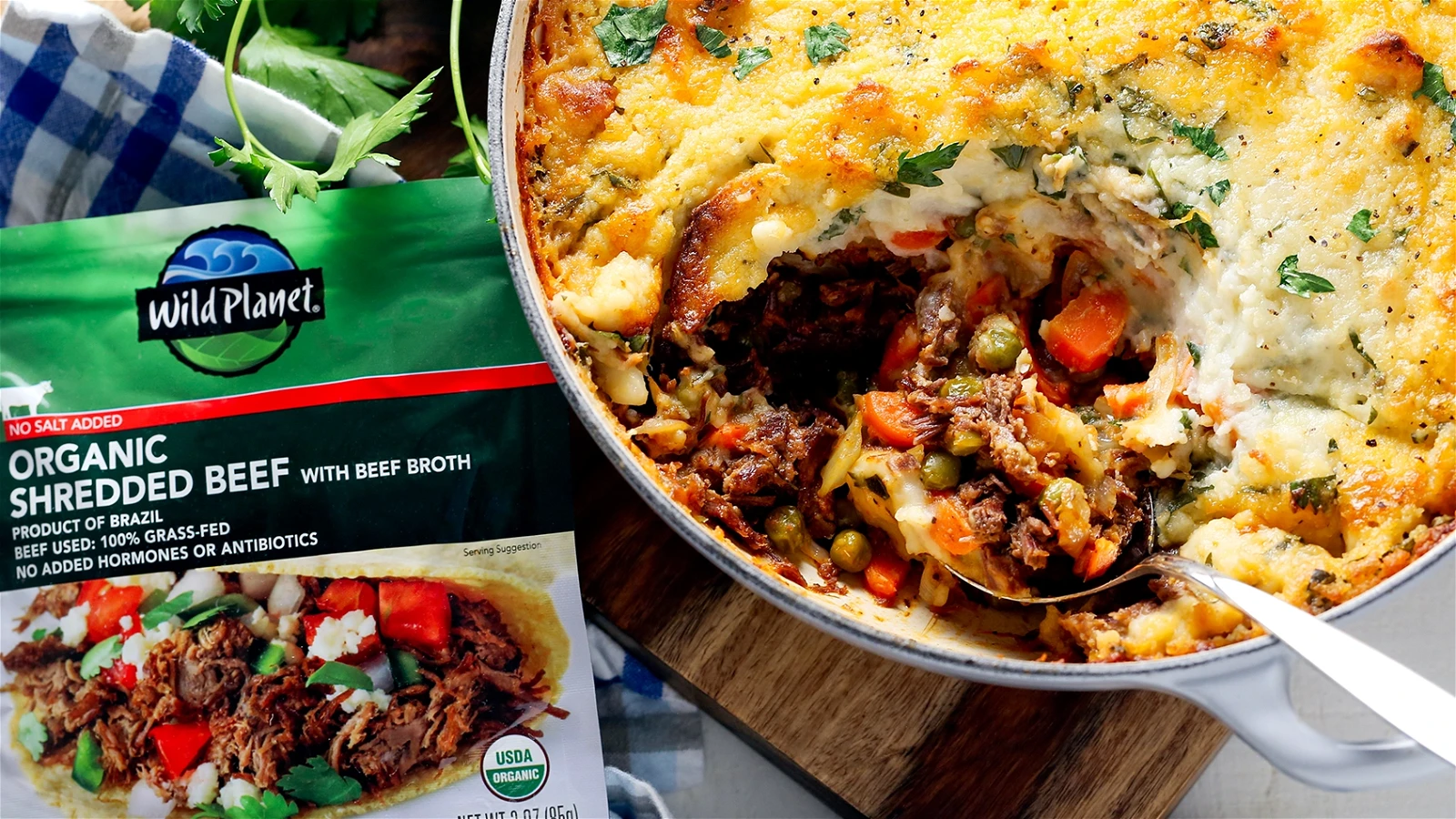 Ingredients
2 Tbsp olive oil

1/2 of medium onion, diced

2 medium carrots, peeled and sliced

1 rib celery, chopped

1 cup peas

2 cloves garlic, minced

2 Tbsp tomato paste

2 tsp salt

1/2 tsp dried oregano

1/4 tsp dried thyme

Black pepper

–OR–

1/4 cup beef broth

1 Tbsp Worcestershire sauce

3 cups pre-made mashed potatoes

1/2 tsp garlic powder

1/4 tsp salt

1/4 tsp ground black pepper

2 Tbsp chopped fresh parsley

1/4 cup shredded parmesan cheese
SHOP ALL WILD PLANET PRODUCTS
Directions
Preheat oven to 400° F. In a medium to large pan, add olive oil over medium heat and cook onion until soft.

Add carrots, celery, peas, garlic, tomato paste and seasonings, cooking until well incorporated and carrots begin to soften.

Add beef, beef broth and Worcestershire sauce and mix together.

Place meat mixture into a casserole dish, evenly covering the bottom of the dish.

Mix mashed potatoes with the garlic powder, salt and pepper, 1 Tbsp of parsley, and parmesan.

Place mashed potato mixture on top of meat mixture in baking dish, evenly covering.

Bake uncovered 25-30 minutes or until potatoes are golden brown. Garnish with remaining 1 Tbsp of parsley.