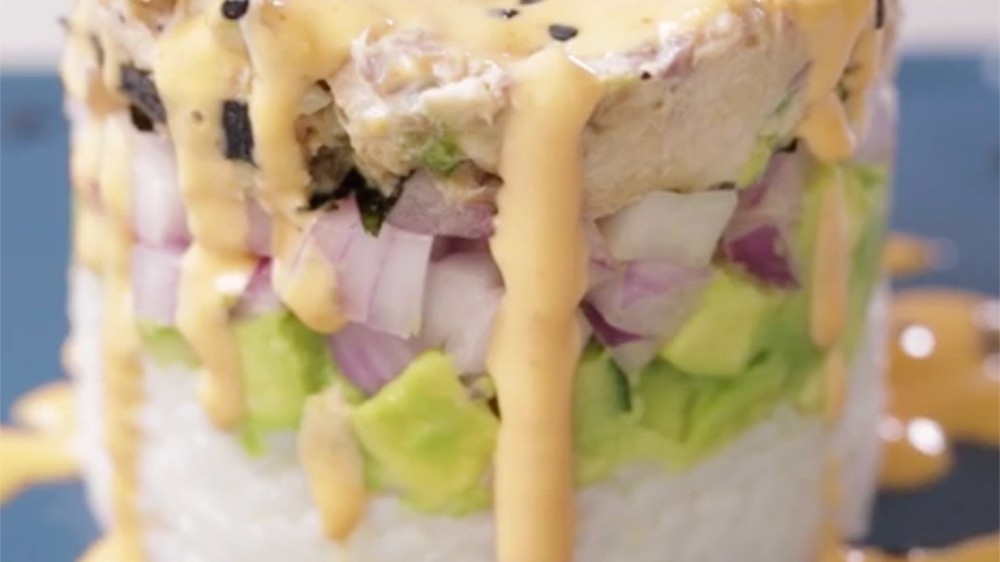 Ingredients
1 cup cooked sushi rice
2 tsp rice wine vinegar
2 tsp granulated sugar
1/2 tsp sea salt
1 tsp coconut mayo
1 tsp coconut aminos
1 green onion, minced
1/4 tsp black sesame seeds
1/4 tsp sea salt
Pinch black pepper
1 cup diced avocado
1/2 cup diced red onion
4 sheets roasted seaweed, cut in strips
Sriracha mayo, to taste
Black sesame seeds, to taste
Directions
Place cooked sushi rice, rice wine vinegar, granulated sugar, and sea salt in a bowl, mix.

In a separate bowl, add flaked pink salmon, coconut mayo, coconut aminos, minced green onion, black sesame seeds, sea salt, black pepper.

Place sushi mold on flat plate. Add 1/2 cup diced avocado, 1/4 cup diced red onion, 2 cut up sheets of roasted seaweed, and 1/2 cup salmon mixture.

Remove stack from mold, drizzle with sriracha mayo and black sesame seeds.

Serve immediately.