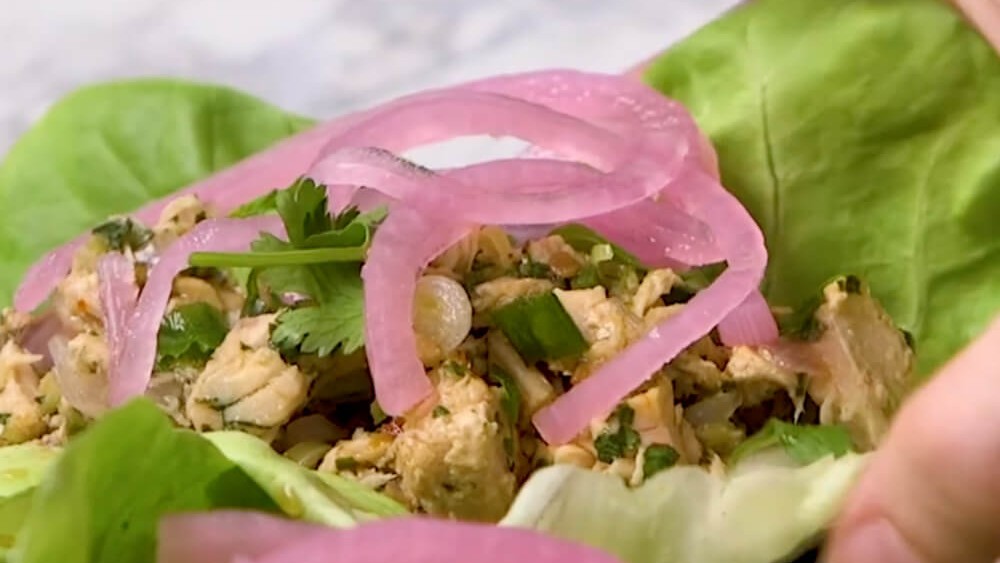 Ingredients
Pickled Onion Ingredients

1 large red onion, thinly sliced
1 Tbsp whole peppercorns
2 bay leaves
1 cup rice wine vinegar

Sauce Ingredients

Juice of 2 large limes
2 Tbsp fish sauce
2 tsp coconut aminos
1/2 tsp sriracha

Filling Ingredients

–OR–

3 Tbsp avocado oil
1 medium shallot, diced
1 jalapeno, seeded and diced
2 Tbsp lemongrass, chopped
1 lime, zested and juiced
2 tsp fish sauce
1 tsp garlic powder
1 tsp ground ginger
1 tsp Kosher salt
2 Tbsp cilantro, chopped
2 Tbsp mint, chopped

Serving Ingredients

1 head butter lettuce
4 green onions, chopped
Cilantro, to taste
Mint, to taste
Directions
Bring 4 cups of water to a bowl.

Add red onion, return to boil.

Remove from heat, place red onion in small jar.

Add peppercorns, bay leaves, and rice wine vinegar.

Mix and let sit for 45 minutes.

In a separate bowl, add juice of 2 large limes, fish sauce, coconut aminos, and sriracha; stir and set aside.

In separate bowl, flake two cans of tuna.

Heat oil in large pan over medium heat.

Add diced shallot, chopped jalapeno, and chopped lemongrass, sauté.

Add flaked tuna, lime zest, lime juice, fish sauce, garlic powder, ground ginger, kosher salt, chopped cilantro, and chopped mint, mix well in hot pan until heated through.

Remove pan from heat.

Place butter lettuce leaves on serving dish, adding 1 large scoop of tuna mixture to each leaf.

Top with chopped green onions, sauce, cilantro, mint, and pickled red onions.

Serve immediately.