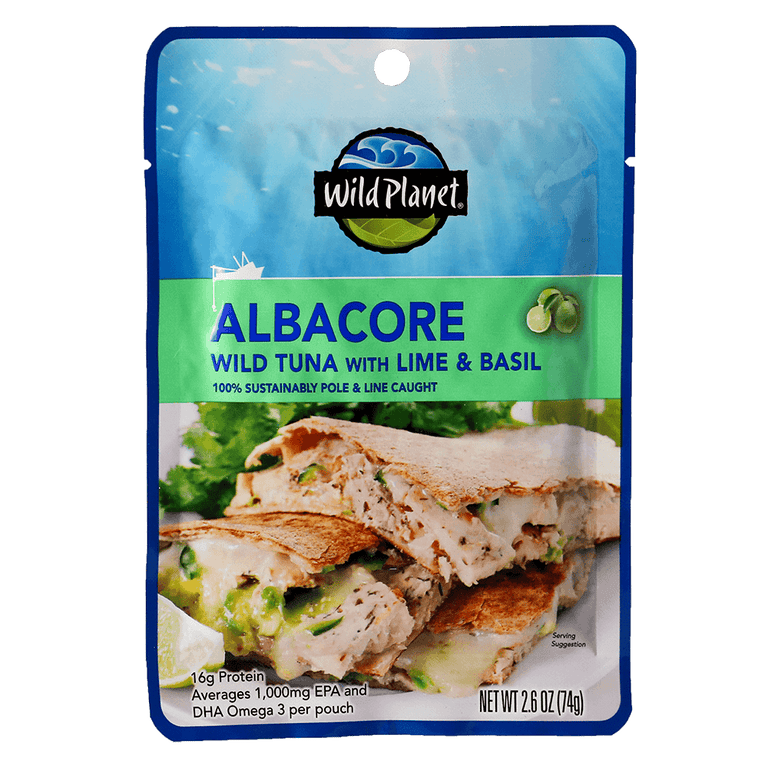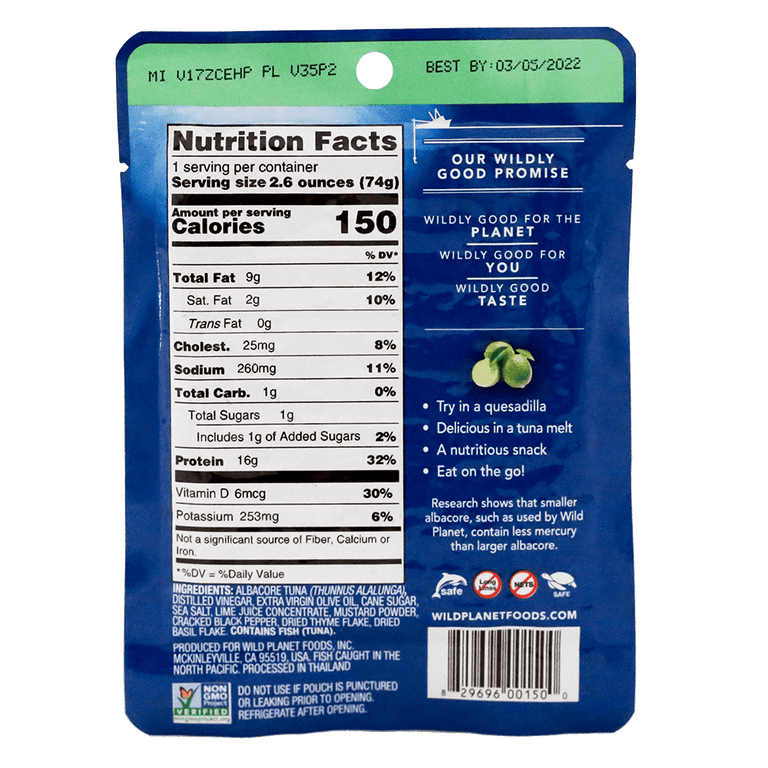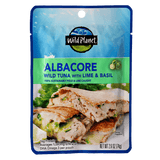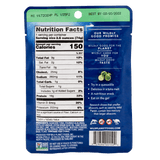 Albacore Wild Tuna With Lime & Basil Single-Serve Pouch
2.6oz Pouch
100% pole & line or troll caught methods that only catch smaller migratory tuna lower in mercury. Nets are never used to catch our tuna.
Ingredients: Albacore tuna (Thunnus alalunga), distilled vinegar, extra virgin olive oil, cane sugar, sea salt, lime juice concentrate, mustard powder, cracked black pepper, dried thyme flake, dried basil flake
This tuna is harvested in the North Pacific Ocean, working with fleets in the United States and Japan; and in the South Pacific Ocean, working with smaller fleet in New Zealand.
Our single-serve pouch features a hand-cut and hand-packed albacore tuna fillet cooked just once to retain all of its natural juices, Omega‑3 oils and firm texture.
Blended with lime, basil, extra virgin olive oil and other seasonings, this option allows you to experience exceptional flavor with on-the-go convenience.
Nutrition

1
2.6oz (74g)
150
9g (12% DV)
2g (10% DV)
0g
25mg (8% DV)
260mg (11% DV)
1g (0% DV)
0g (0% DV)
1g (incl. 1g of Added Sugars, 2% DV)
16g (32% DV)
6mcg (30% DV)
-
-
253mg (6% DV)
1,000mg
Shipping & Returns

For one-time purchases, an order threshold of $75 is required for free shipping. Orders below the threshold will have a $10 flat rate shipping fee added. For all Subscribe & Save orders, customers will always receive free shipping within the continental U.S.

If you are not entirely satisfied with your purchase, the product can be returned within 30 days of the original purchase of the product. A new product may be exchanged for another product or returned for a refund. You will need to contact our Customer Service team before sending the product back to us. Unfortunately, sale items cannot be refunded. Only regular price items can be refunded. For more details, please view Our Policies.
Charles F.

Verified Buyer

Easy peasy

This combination creates a unique and tangy expression of tuna that's beyond delicious. Just open a pack of fresh tasty flavor that you have never experienced and you will love it.

Delicious

Perfect for salads or pasta dishes.

Easy to use

I truly enjoy the tuna with basil and lime. It is one of my favorites for a quick snack or a sandwich. I also pair it with pasta and rice for a 'bowl' type of meal. Thanks for providing a sensible way for a single person to enjoy tuna and not have to deal with leftovers.

5 Stars

One of the best flavored packs I've tried!
Reviews Loaded
Reviews Added