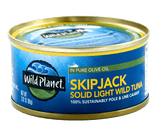 Skipjack Solid Light Wild Tuna in Pure Olive Oil
2.82oz Can
100% pole & line or troll caught methods that only catch smaller migratory tuna lower in mercury. Nets are never used to catch our tuna.
Ingredients: Skipjack tuna (Katsuwonus pelamis) olive oil, sea salt
This tuna is harvested in the Atlantic Ocean, working with fleets in Cape Verde off the west coast of Africa.
Gluten-Free
Our most pristine and premium skipjack tuna is hand-cut and hand-packed with a touch of sea salt and pure olive oil. This tuna is light in color, has a silky-smooth texture and provides excellent, big tuna flavor.
Prepared in a smaller can, this single-serve solution allows you to experience some of our most delicious tuna without any waste or leftovers.
Nutrition

1
2.82oz (56g)
130
9g (12% DV)
1.5g (8% DV)
0g
20mg (7% DV)
110mg (5% DV)
0g (0% DV)
0g (0% DV)
0g (incl. 0g Added Sugars, 0% DV)
13g (26% DV)
4% DV
0% DV
4% DV
4% DV
271mg
Shipping & Returns

For one-time purchases, an order threshold of $75 is required for free shipping. Orders below the threshold will have a $10 flat rate shipping fee added. For all Subscribe & Save orders, customers will always receive free shipping within the continental U.S.

If you are not entirely satisfied with your purchase, the product can be returned within 30 days of the original purchase of the product. A new product may be exchanged for another product or returned for a refund. You will need to contact our Customer Service team before sending the product back to us. Unfortunately, sale items cannot be refunded. Only regular price items can be refunded. For more details, please view Our Policies.
Giovanna P.

Verified Buyer

Emily C M.

Verified Buyer

Best Tuna Ever!!!

Greatest tasting tuna. Nice light tuna in olive oil is the best I've tasted in a long time.

Excellent Tuna!

Best tuna ever and the cans are full as opposed to some purchased in a grocery store.

So Fresh

I am so use to store bought tuna until my parents told me about Wildplanet. Made an omlet and used this, OMG! Such a huge difference in taste and flavor. I will never go back to store bought tuna again.

J. Bridgit T.

Verified Buyer

Wild Planet Skipjack in Olive Oil

I need to have this in my pantry so it never runs out! Just the right size to pop into an ice pack to take your salad and tuna to the beach! You can't go wrong with this product. Easy open peel lid is cool, too. I love it.
Reviews Loaded
Reviews Added