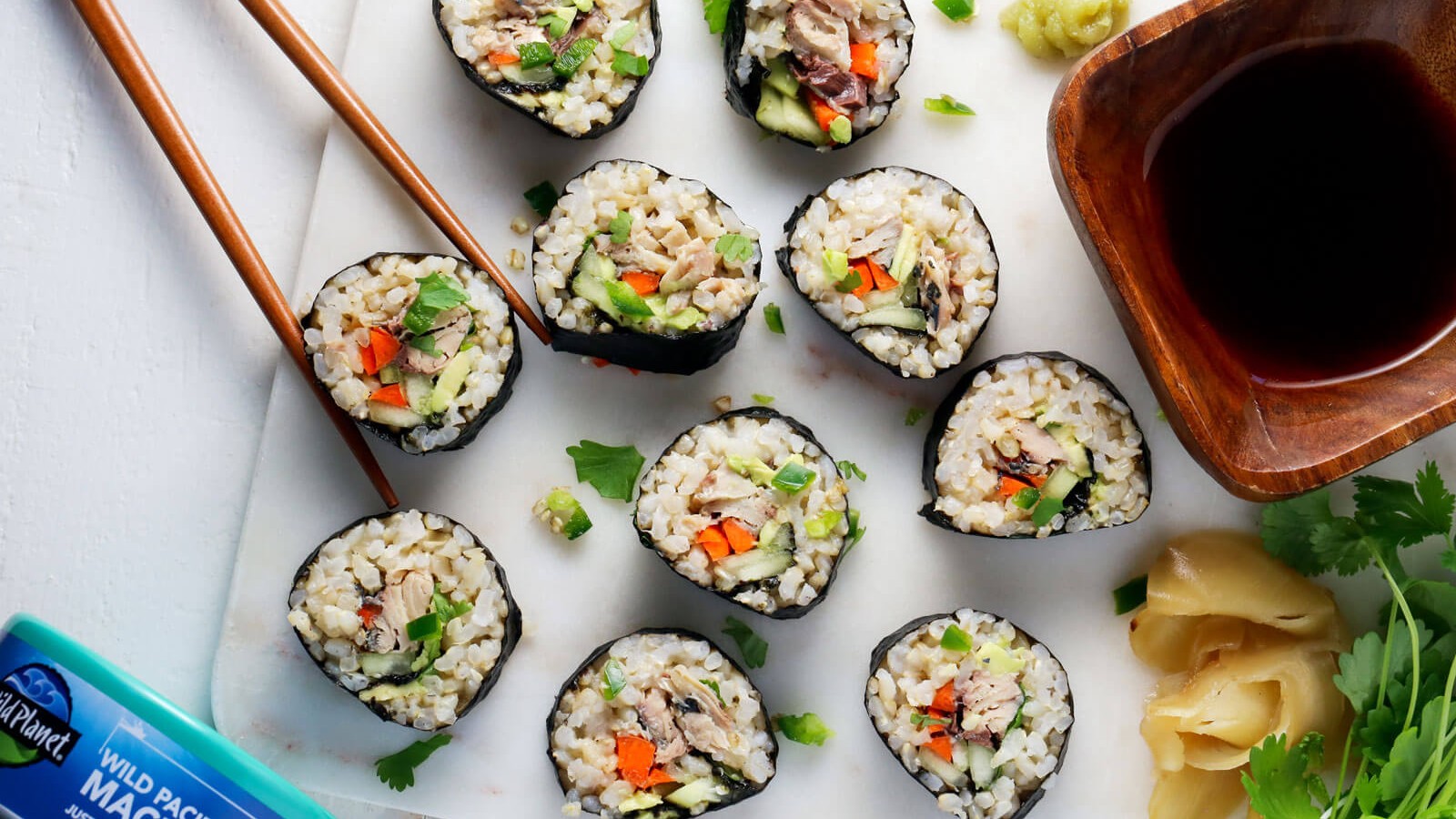 Ingredients
1 cup cooked short grain brown rice
1 1/2 Tbsp rice vinegar
2 tsp sugar or maple syrup
1/4 tsp salt
2 nori sheets
1/2 of one carrot, julienned
1/2 of one cucumber, julienned

–OR–

1 small avocado, sliced
1/4 cup cilantro leaves, stems removed
1 small jalapeno, minced or thinly sliced
Wasabi
Pickled ginger
Soy sauce or tamari
SHOP ALL WILD PLANET PRODUCTS
Directions
Cook rice according to package instructions and set aside.

In a small bowl, mix together rice vinegar, sugar or maple syrup and salt.

Add the rice vinegar mixture to the cooked rice and gently combine.

Place one nori sheet, shiny side down, on top of a sushi mat.

Press half of the rice mixture evenly onto the bottom 3/4 of the nori sheet, leaving a space at the top for sealing. Toward the bottom of the nori sheet, layer carrot, cucumber, mackerel, avocado slices and cilantro leaves over the rice. Make sure to leave some space at the bottom of nori sheet in order to roll it over the filling.

Tightly roll using the sushi mat, squeezing the roll as you go.

Repeat process with the second sheet of nori.

Slice each roll into approximately 8 pieces. You will want to use a sharp knife, wiping it clean and dipping it into water in between cuts.

Top each piece with a bit of jalapeno to taste and serve with wasabi, pickled ginger and soy sauce or tamari.