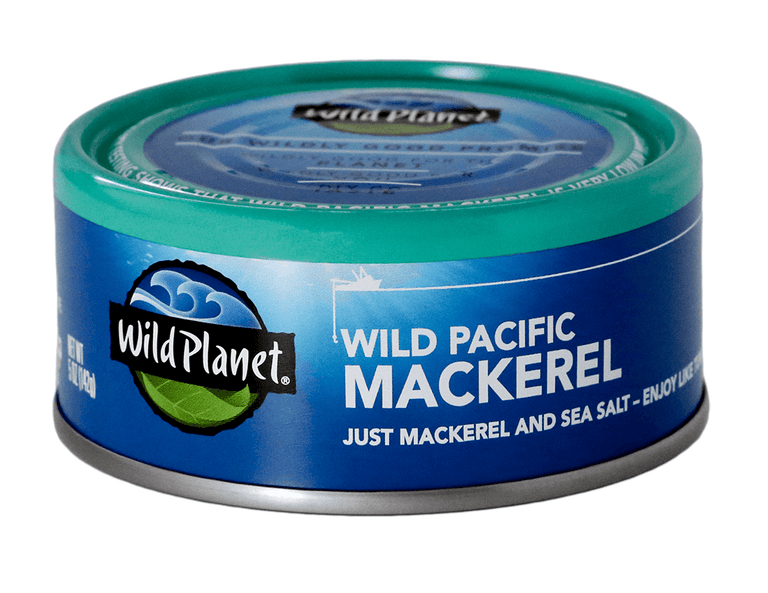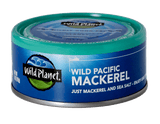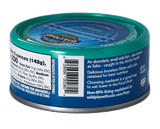 Wild Pacific Mackerel
5oz Can
Single-species purse seine methods that virtually eliminate unintended bycatch. Any incidental bycatch of other species is fully retained and utilized. Nothing is discarded. FADs* are never used.
*Fish Aggregating Devices (FADs) are man-made objects that attract fish often outside of the targeted species causing unintentional bycatch.
Ingredients: Mackerel (Scomber japonicus) and sea salt
Our mackerel is harvested in the North Pacific Ocean, working with well-managed fisheries in Japan that practice sustainable harvesting of targeted free-swimming schools of mackerel.
Kosher
Gluten-Free
Delicately Textured Hand Filleted
Commonly known as Saba on sushi menus, our delicately textured mackerel fillets are hand-packed with just a touch of sea salt. No water, oils or fillers are added.
Hand-filleted with great care and attention to detail to remove bones, this wild mackerel is prepared with the skin on for best nutrition, providing a more flavor-forward experience very similar to tuna. Our mackerel fillets are an easy and tasty way to eat lower on the food chain.
Nutrition

1
5oz (142g)
230
11g (14% DV)
4g (20% DV)
0g
95mg (32% DV)
350mg (15% DV)
0g (0% DV)
0g (0% DV)
0g (incl. 0g Added Sugars, 0% DV)
31g (62% DV)
120% DV
6% DV
15% DV
10% DV
1,690mg
Shipping & Returns

For one-time purchases, an order threshold of $75 is required for free shipping. Orders below the threshold will have a $10 flat rate shipping fee added. For all Subscribe & Save orders, customers will always receive free shipping within the continental U.S.

If you are not entirely satisfied with your purchase, the product can be returned within 30 days of the original purchase of the product. A new product may be exchanged for another product or returned for a refund. You will need to contact our Customer Service team before sending the product back to us. Unfortunately, sale items cannot be refunded. Only regular price items can be refunded. For more details, please view Our Policies.
What a great lunch!!

Tasty especially with extra evoo

Lorayne Ann De Pauk C.

Verified Buyer

Moist and delicious!

This mackerel is the best I've ever had, and I've tried them all. I have autoimmune disease and mackerel is a nutritionally dense food with lots of omega 3 which helps calm inflammation. This fish is so good that I eat it straight out of the can! I've always got an extra cab stashed in my purse so I can eat any time without needing to stop for restaurant food which typically uses canola and other inflammatory oils. Thank you for this terrific product!

Easy protein

It's delicious. The sardines are a little too strong for me but the mackerel has made getting protein much easier for me as someone who doesn't eat meat. Thank you.

Nicholas B.

Verified Buyer

Expiration Date

The expiration on the Mackerel is not very good.

The last time I ordered it had a 2 year expiration date.

The product is always good.

WP

Wild Planet Foods

1 month ago

Hello Nicolas,

The dates on our products are best by dates not expiration dates. The best buy date for this product is set at three years after production. This product can be safely eaten up to 2 years past the best by date. We won't sell you anything that is within 6 months of the best by date. You are always welcome to call into see what best by dates I have in inventory before placing an order. Email me at hello@wildplanetfoods.com if you have any more questions.

Thank you,

Romeo Gil
Customer Service Specialist
Wild Planet Foods
800-998-9946

Tasty, will get some more we consume them everyday.

That best mackerel in the market
Reviews Loaded
Reviews Added