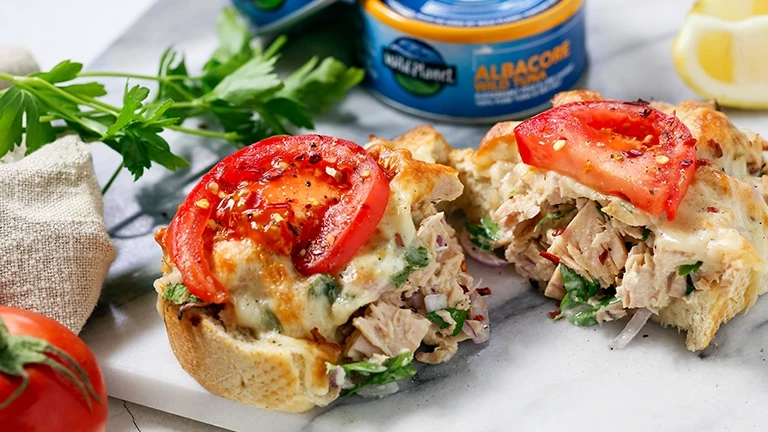 Ingredients
–OR–

2 Tbsp lemon juice
1-2 Tbsp mayonnaise
2 Tbsp finely chopped red onion
2 tsp chopped parsley
Pinch of red pepper flakes
Sea salt and freshly ground pepper, to taste
4 slices Monterey Jack or provolone cheese
4 slices vine ripened tomato

2 thick slices ciabatta or other hearty bread, lightly toasted
SHOP ALL WILD PLANET PRODUCTS
Directions
Preheat broiler.

Place Wild Planet tuna and juices from the can into a medium bowl.

Flake with a fork.

Add lemon juice, mayonnaise, red onion, parsley, red pepper flakes, sea salt and pepper to taste.

Mix until well combined.

Mound tuna mixture onto two slices of ciabatta bread, top each with two slices of cheese.

Place on a sheet pan and broil about four inches from heat until cheese melts, taking care to prevent cheese from burning.

Top with tomatoes and serve.