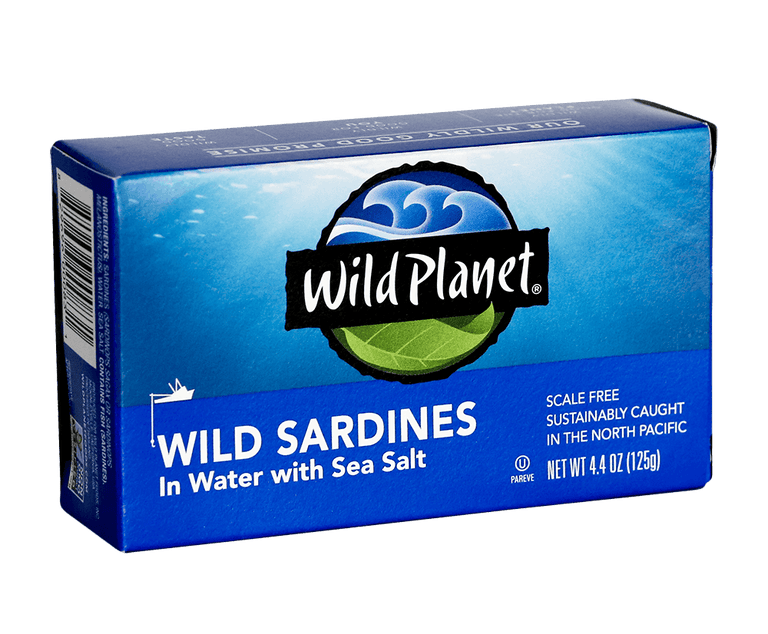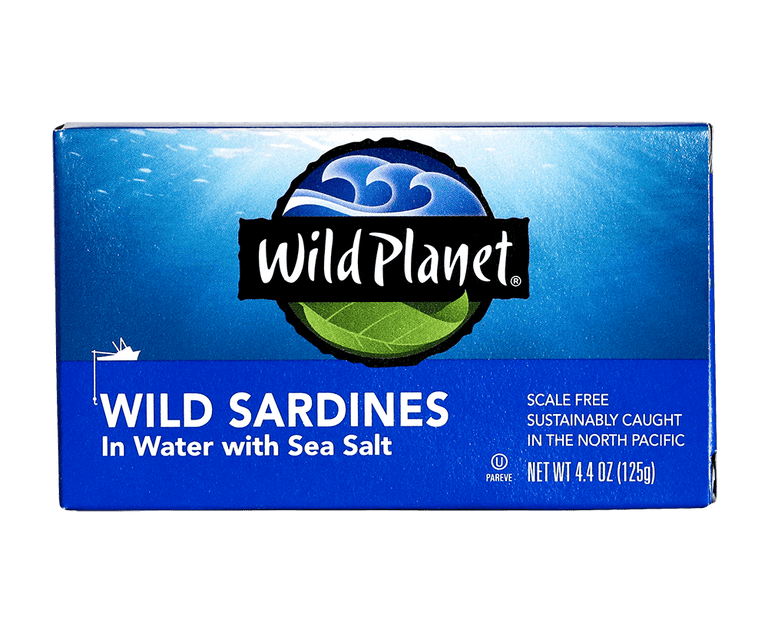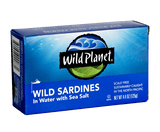 Wild Sardines In Water
4.4oz Can
Single-species purse seine and drift net. FADs* are never used.
*Fish Aggregating Devices (FADs) are man-made objects that attract fish often outside of the targeted species causing unintentional bycatch.
Ingredients: Sardines (Sardinops sagax or Sardinops melanostictus), water, sea salt
Our sardines are harvested in the North Pacific Ocean, working with well-managed fisheries in Japan that practice sustainable harvesting of targeted free-swimming schools of sardines.
Kosher
Gluten-Free
Meaty and scale-free, our wild sardines have a firm texture and a delicious flavor.
These nutritional powerhouses are packed in water with a touch of sea salt.
Nutrition

1
3oz (85g)
140
8g (8% DV)
2.5g (13% DV)
0g
40mg (13% DV)
280mg (12% DV)
0g (0% DV)
0g (0% DV)
0g (incl. 0g Added Sugars, 0% DV)
18g (36% DV)
70% DV
15% DV
10% DV
3% DV
1,800mg
Shipping & Returns

For one-time purchases, an order threshold of $75 is required for free shipping. Orders below the threshold will have a $10 flat rate shipping fee added. For all Subscribe & Save orders, customers will always receive free shipping within the continental U.S.

If you are not entirely satisfied with your purchase, the product can be returned within 30 days of the original purchase of the product. A new product may be exchanged for another product or returned for a refund. You will need to contact our Customer Service team before sending the product back to us. Unfortunately, sale items cannot be refunded. Only regular price items can be refunded. For more details, please view Our Policies.
Nice Pantry Item

My husband like to take these in his lunch. Easy to grab and go. Healthy too.

Michael C.

Verified Buyer

Delicious and healthy

The Wild Planet sardines in water (with salt) are tremendous for a light meal or snack. As with other Wild Planet products, one can instantly detect the superior quality from what is more commonly available at most stores. Hardly a day goes by during which I don't consume the tuna, sardines or anchovies.

Great Pure Sardines

I've been eating this sardines from Wild Planet for years. Extremely delicious! I drink the juice & eat them right out of the can!

Lorrie T.

Verified Reviewer

Outstanding!

I'm Norwegian by heritage, and my father loved sardines. Hadn't eaten them in a while, so I made a feast! Wild Planet sardines, home-grown tomatoes and cucumbers, saltines, lemon, washed down with a nice sauvignon blanc. Heavenly, and super filling. Plump, beautiful sardines. My cat Sophia REALLY approves! ❤️

Yummy

These sardines taste like they were just caught and put on my plate. They are fleshy and tasty.
Reviews Loaded
Reviews Added