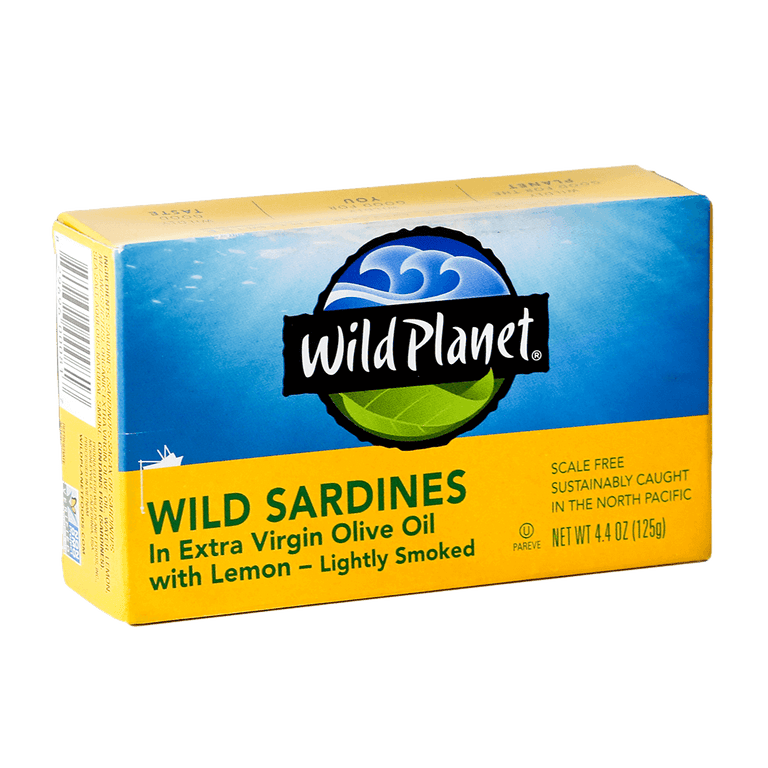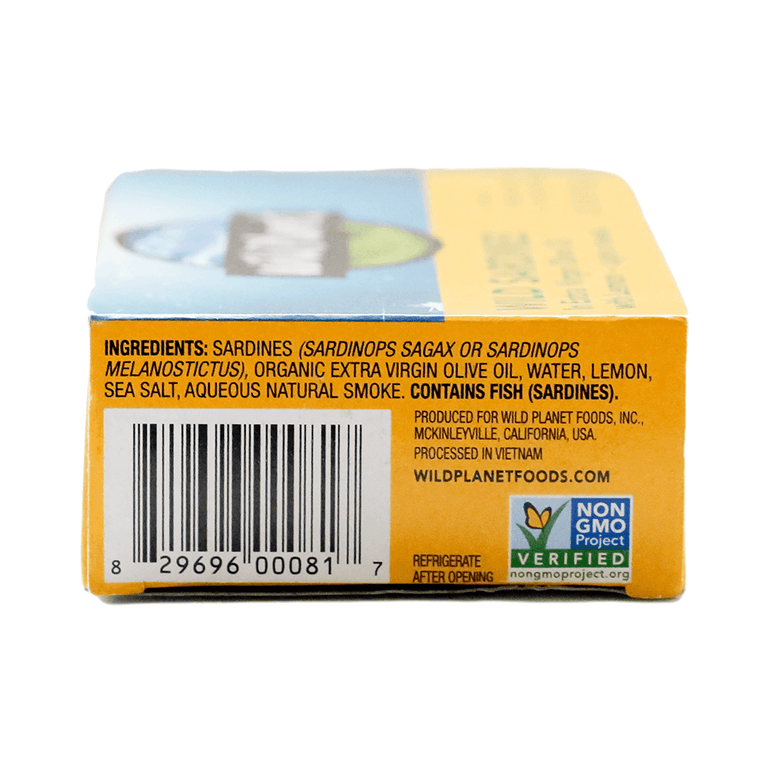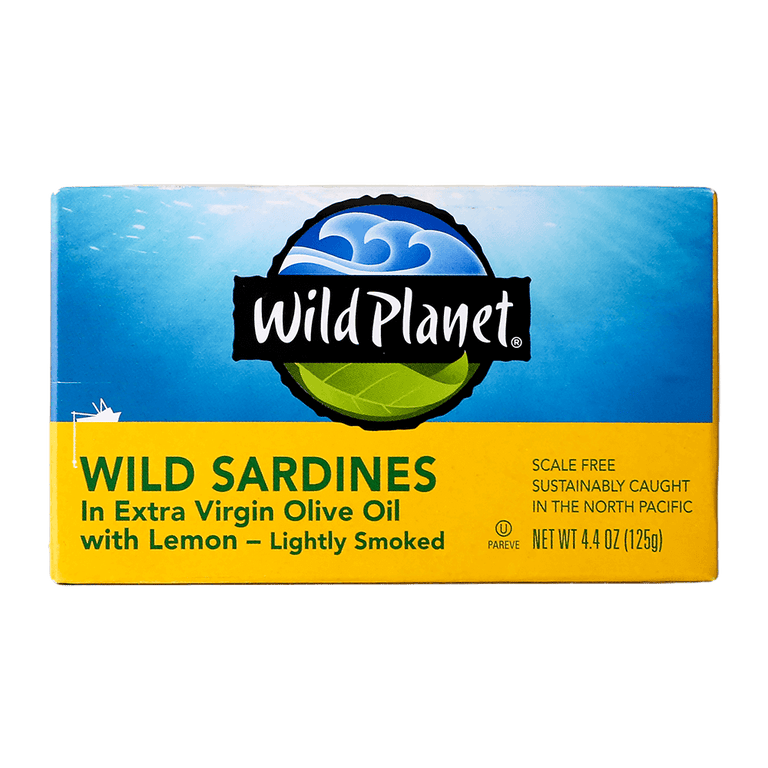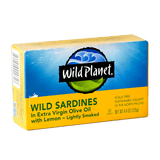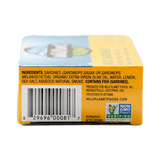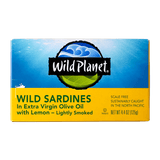 Wild Sardines In Extra Virgin Olive Oil with Lemon
4.4oz Can
Single-species purse seine and drift net. FADs* are never used.
*Fish Aggregating Devices (FADs) are man-made objects that attract fish often outside of the targeted species causing unintentional bycatch.
Ingredients: Sardines (Sardinops sagax or Sardinops melanostictus), organic extra virgin olive oil, water, lemon, sea salt, aqueous natural smoke
Our sardines are harvested in the North Pacific Ocean, working with well-managed fisheries in Japan that practice sustainable harvesting of targeted free-swimming schools of sardines.
Kosher
Gluten-Free
Meaty and scale-free, our wild sardines have a firm texture and a delicious flavor.
These nutritional powerhouses are packed in organic extra virgin olive oil with a slice of lemon.
Nutrition

1
3oz (85g)
170
11g (14% DV)
2.5g (13% DV)
0g
45mg (15% DV)
260mg (11% DV)
0g (0% DV)
0g (0% DV)
0g (incl. 0g Added Sugars, 0% DV)
18g (36% DV)
60% DV
15% DV
10% DV
4% DV
1,800mg
Shipping & Returns

For one-time purchases, an order threshold of $75 is required for free shipping. Orders below the threshold will have a $10 flat rate shipping fee added. For all Subscribe & Save orders, customers will always receive free shipping within the continental U.S.

If you are not entirely satisfied with your purchase, the product can be returned within 30 days of the original purchase of the product. A new product may be exchanged for another product or returned for a refund. You will need to contact our Customer Service team before sending the product back to us. Unfortunately, sale items cannot be refunded. Only regular price items can be refunded. For more details, please view Our Policies.
Best of Wild Sardines

Best quality of sardines in the business with reasonable prices. Efficient on-time delivery.

Christopher R.

Verified Buyer

Easy lunch

Wild Planet Sardines in Extra Virgin Olive Oil with Lemon is great for a quick lunch and goes great with Idahoan brand mashed potatoes which only need hot water. I do not like to use a microwave, so when only hot water is available this combination makes for a satisfying easy to make nutritious lunch.

Isabella G.

Verified Buyer

more lemon juice please!

Good product although I could not taste the flavor of lemon, as it is too mild. Other than that they are fabulous! Size portion is perfect for one!

Alberto M.

Verified Buyer

Great taste...

Great tasting combo. Will buy again.

Barbara L.

Verified Buyer

My favorite

These are so good! I eat them as a part of my meals, and the lovely lemon in the tin just adds so much flavor.

They are great on whole grain crackers, and also as a sandwich on sourdough with lettuce...I am basic in my food choices, but I know other people might add other items to their sandwich. I serve them on a plate along with olives, fresh veggies, hummus, cherry tomatoes, whatever! They are a great food and are also SO healthy!.

Love them, highly recommend them!
Reviews Loaded
Reviews Added