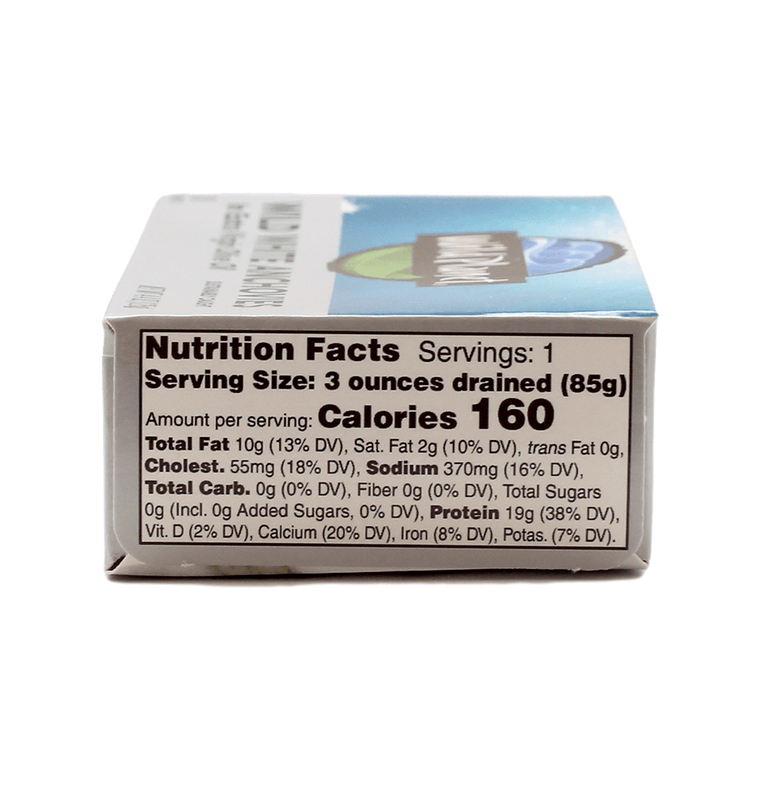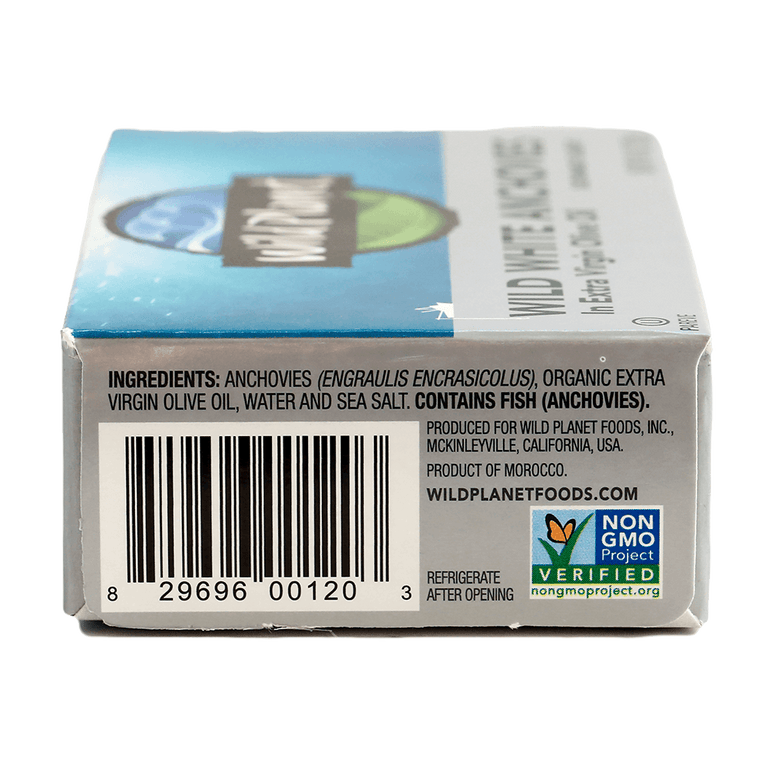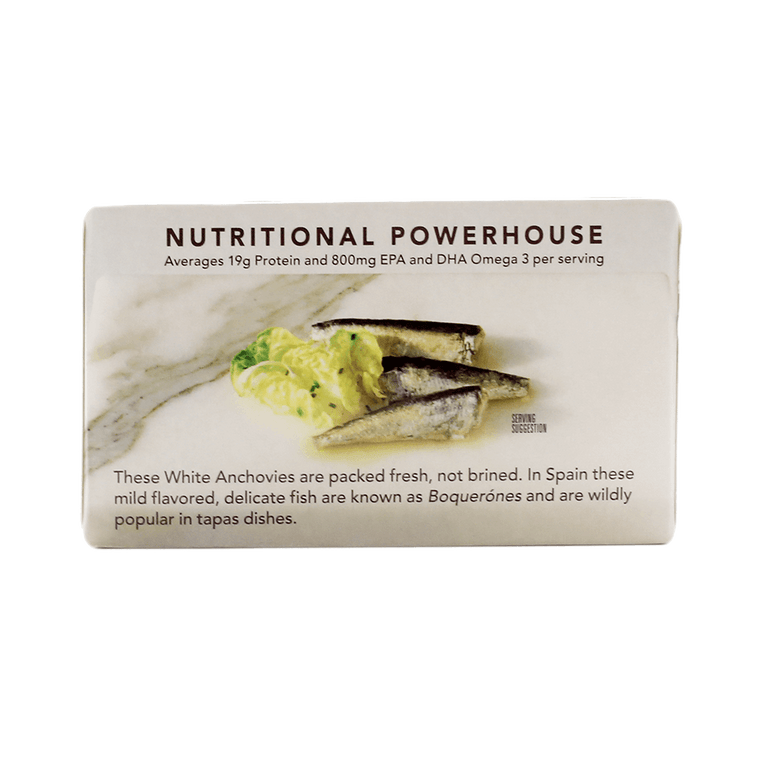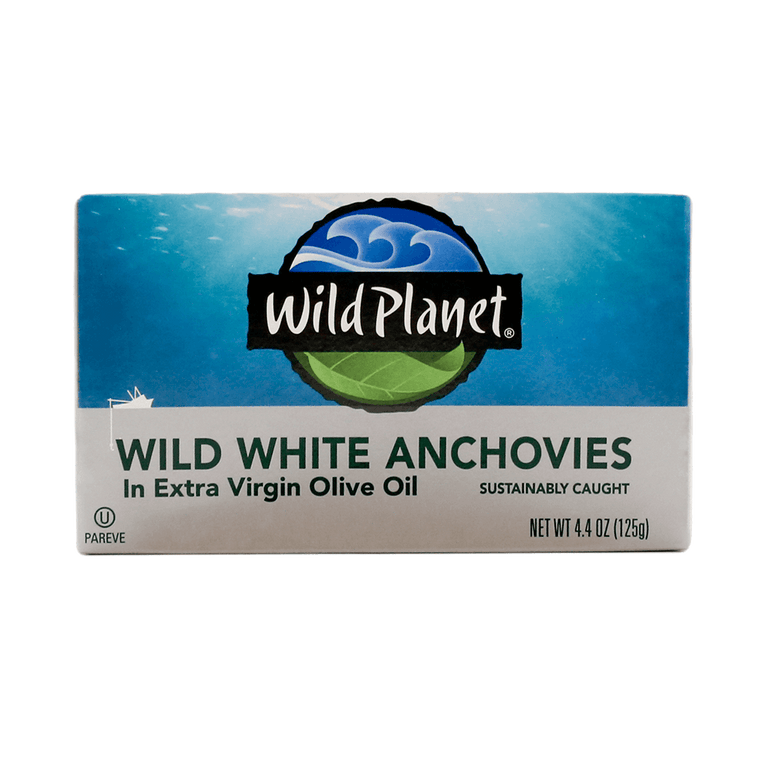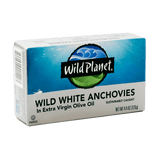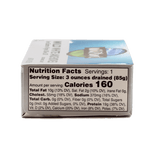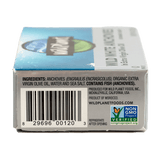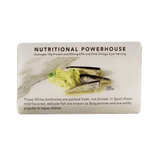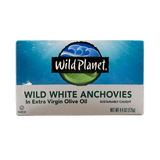 Wild White Anchovies In Extra Virgin Olive Oil
4.4oz Can
Single-species purse seine methods that virtually eliminate unintended bycatch. Any incidental bycatch of other species is fully retained and utilized. Nothing is discarded. FADs* are never used.
*Fish Aggregating Devices (FADs) are man-made objects that attract fish often outside of the targeted species causing unintentional bycatch.
Ingredients: Anchovies (Engraulis encrasicolus), organic extra virgin olive oil, water, sea salt
Our anchovies are harvested in the Atlantic Ocean, working with well-managed fisheries in Morocco that practice sustainable harvesting of targeted free-swimming schools of anchovies.
Kosher
Gluten-Free
Our wild white anchovies are not your typical salt-brined, strong-tasting anchovies. The anchovies are packed fresh upon catch, and look similar to sardines – just smaller.
Our anchovies do not go through a brining process, so in each can you will find white anchovies that have a delicate texture and a clean, mild flavor. These nutritional powerhouses are packed in organic extra virgin olive oil, water, and a touch of sea salt.
Nutrition

1
3oz (85g) drained
160
10g (13% DV)
2g (10% DV)
0g
55mg (18% DV)
370mg (16% DV)
0g (0% DV)
0g (0% DV)
0g (incl. 0g Added Sugars, 0% DV)
19g (38% DV)
2% DV
20% DV
8% DV
7% DV
800mg
Shipping & Returns

For one-time purchases, an order threshold of $75 is required for free shipping. Orders below the threshold will have a $10 flat rate shipping fee added. For all Subscribe & Save orders, customers will always receive free shipping within the continental U.S.

If you are not entirely satisfied with your purchase, the product can be returned within 30 days of the original purchase of the product. A new product may be exchanged for another product or returned for a refund. You will need to contact our Customer Service team before sending the product back to us. Unfortunately, sale items cannot be refunded. Only regular price items can be refunded. For more details, please view Our Policies.
Very pleased

Very pleased, first time trying this product.

Product

Love this product!!!!! The staff has been very communicative and responsive

Review of anchovies

until now my experience with anchovies has been with the salt laden fish found on pizza, I liked them, but not overly so. With your product I am now a true devotee of anchovies and will reorder. I only wish that you had oysters, clams, and shrimp in your products.

A+

Delicious, nutritious, sustainable, arrived quickly - all the positives and no negatives. Love the product, love the company, will be buying again.

Confidence in the product

I love this product. Mild flavor, Anchovies are a superfood in my world. My favorite way to enjoy them is with Wasabi, the green sushi condiment. But they are delicious on their own.

I choose Wild Planet because their values are aligned with mine.
Reviews Loaded
Reviews Added