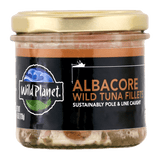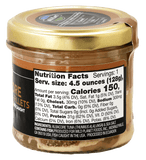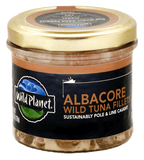 Albacore Wild Tuna Fillets
4.5oz Jar
100% pole & line or troll caught methods that only catch smaller migratory tuna lower in mercury. Nets are never used to catch our tuna.
Ingredients: Albacore tuna (Thunnus alalunga) and sea salt
This tuna is harvested in the North Pacific Ocean, working with fleets in the United States and Japan; and in the South Pacific Ocean, working with smaller fleet in New Zealand.
Gluten-Free
Our most pristine and premium albacore tuna fillets are thickly cut and hand-packed with a touch of sea salt in glass jars without any added water, oil or broth.
Cooked just once to retain the tuna's natural juices, Omega‑3 oils and exquisite texture, the result is a delicious, full-bodied flavor.
Nutrition

1
4.5oz (128g)
150
3.5g (4% DV)
1g (5% DV)
0g
30mg (10% DV)
300mg (13% DV)
0g (0% DV)
0g (0% DV)
0g (incl. 0g Added Sugars, 0% DV)
31g (62% DV)
50% DV
0% DV
6% DV
8% DV
1,060mg
Shipping & Returns

For one-time purchases, an order threshold of $75 is required for free shipping. Orders below the threshold will have a $10 flat rate shipping fee added. For all Subscribe & Save orders, customers will always receive free shipping within the continental U.S.

If you are not entirely satisfied with your purchase, the product can be returned within 30 days of the original purchase of the product. A new product may be exchanged for another product or returned for a refund. You will need to contact our Customer Service team before sending the product back to us. Unfortunately, sale items cannot be refunded. Only regular price items can be refunded. For more details, please view Our Policies.
meaty

Nice pieces of albacore. Clean taste. Will purchase more.

Albacore Wild Tuna Fillets

My absolute favorite albacore tuna fillets. The jar is packed! My organic grocery store used to carry this product, but no longer does, not sure why as they carry many of your other products so that is how I landed on your web site to place orders.

Best around

Being a truck driver

It's hard to eat healthy

This is the excellent way to get

Wild Tuna Fillets

Amazing, but too difficult to open.
Reviews Loaded
Reviews Added