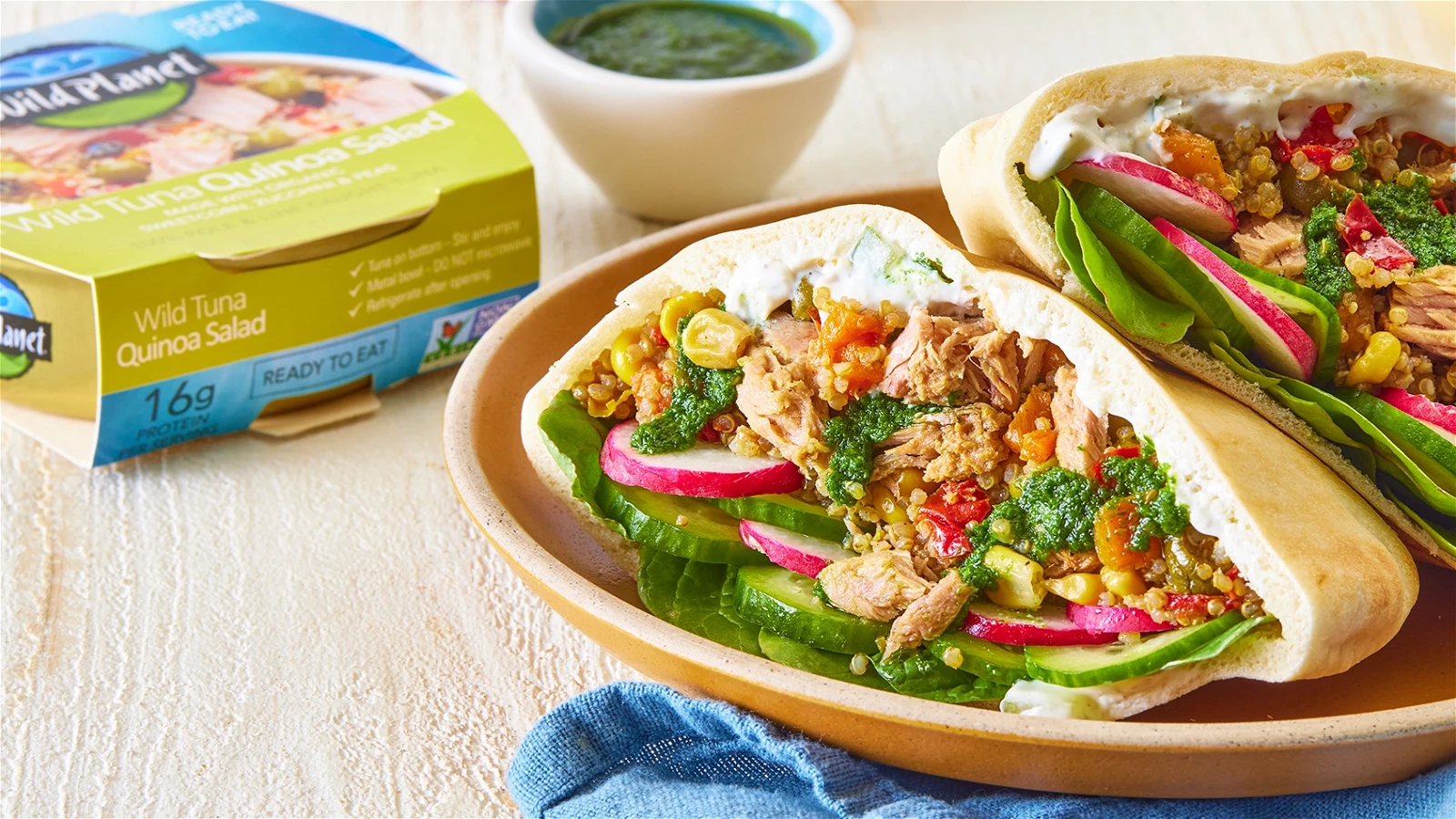 Ingredients
Pita Sandwich

1 pita, cut in half crosswise

2-inch piece English cucumber, thinly sliced

2 Radishes, thinly sliced

1/4 cup mixed greens

1/4 cup store-bought or homemade tzatziki

2 Tbsp store-bought or homemade herb and oil blend (chimichurri or Zhoug)

Homemade Herb Oil (yields ½ cup)

2 cups packed picked parsley

1/4 cup chives, rough chop

1/4 cup dill, rough chop

1 small clove garlic

1/2 tsp kosher salt

1 tsp red wine vinegar

1/4 cup extra virgin olive oil

1/4 cup quality neutral oil, like sunflower or avocado oil

Homemade Tzatziki (yields 1 cup)

1/2 cup whole milk Greek yogurt

2-inch piece English cucumber, finely chopped

Zest of one whole lemon

1 Tbsp lemon juice

1/4 tsp kosher salt

Cracked black pepper
SHOP ALL WILD PLANET PRODUCTS
Directions
For homemade herb oil – add herbs, vinegar, oil and salt to a blender. Blend until smooth. Set aside for drizzling into the pita.

For homemade Tzatziki – combine all ingredients in a small bowl and stir.

To assemble the pita, spread the bottom and top inside the pita with tzatziki.

Add mixed greens, cucumber, radish and fill each pita half with Wild Planet Wild Tuna Quinoa Salad.

Drizzle with herb oil and enjoy.